1 Jul 2022
President Xi Visits HKUST's Hong Kong Center for Neurodegenerative Diseases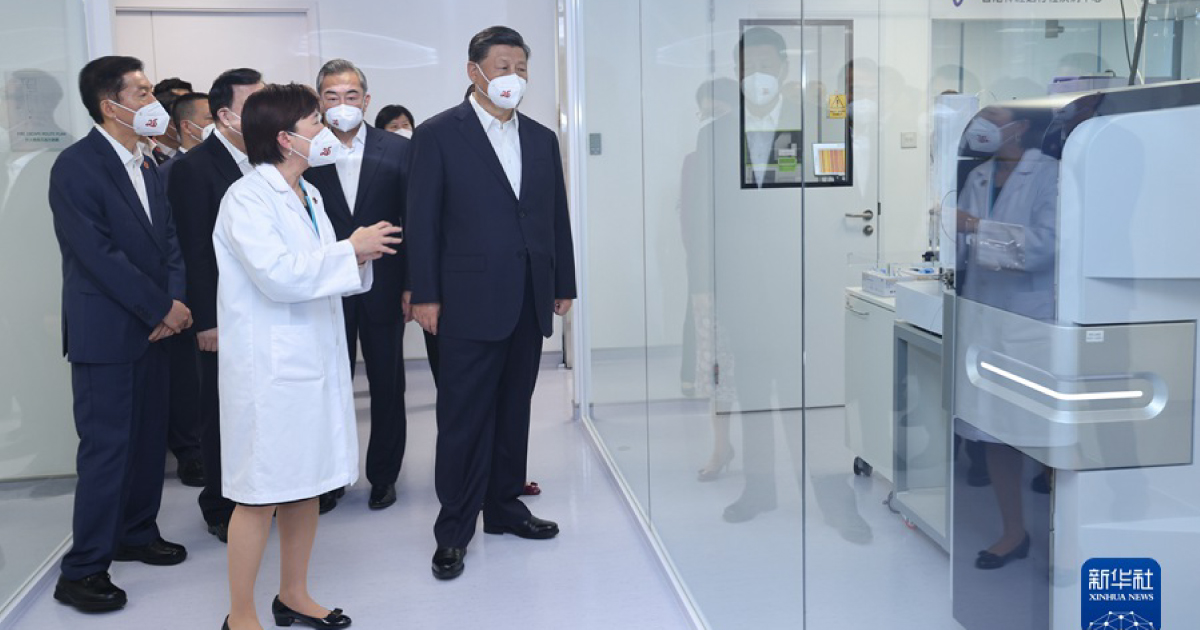 President XI Jinping made an official visit to the Hong Kong Center for Neurodegenerative Diseases (HKCeND) at the Hong Kong Science and Technology Park yesterday in the company of officials from the Central Government and the HKSAR Government. Prof. Nancy IP, Director of HKCeND and The Morningside Professor of Life Science at The Hong Kong University of Science and Technology (HKUST), introduced President Xi to the key research projects and outcomes of the Center, including a simple blood test for early detection and classification of Alzheimer's disease (AD) and related stem cell research.
Established in 2020 with an initial funding of HK$500 million from the HKSAR Government's InnoHK Clusters initiative, the HKCeND is a world-leading research center dedicated to neurodegenerative disease research and knowledge transfer. President Xi expressed keen interest in the AD research projects conducted by HKCeND scientists, and inquired in detail about the research progress, associated technical advantages, and future clinical applications.
"I am very honored in receiving President Xi," said Prof. Ip, adding that President Xi attaches great importance to Hong Kong's innovation and technology (I&T) development and progress. "It is estimated that China currently has 10 million AD patients, the highest prevalence in the world, and this number is expected to grow further with an ageing population. It is foreseeable that this disease will impose a great impact on the country's social and economic development. President Xi both recognized our research results and lauded the significance of our work. He also encouraged us to strengthen collaborations with institutes and universities in the Mainland, and translate our research findings into therapeutic applications to benefit society.
Prof. Ip added, "The researchers at our Center feel very honored and inspired by President Xi's visit. We are galvanized by his support and will expedite the translation of our scientific research to proactively take part in the country's science and technology development."
Before concluding the visit, President Xi addressed more than 30 representatives of Hong Kong scientific researchers and young entrepreneurs and encouraged them to make greater contributions to show his care for Hong Kong's youth in particular. The address demonstrated the importance and acknowledgement placed on Hong Kong's I&T development and the expectation of Hong Kong contributing to the country's development in science and technology.